Snuba Architecture Overview¶
Snuba is a time series oriented data store backed by Clickhouse, which is a columnary storage distributed database well suited for the kind of queries Snuba serves.
Data is fully stored in Clickhouse tables and materialized views, it is ingested through input streams (only Kafka topics today) and can be queried either through point in time queries or through streaming queries (subscriptions).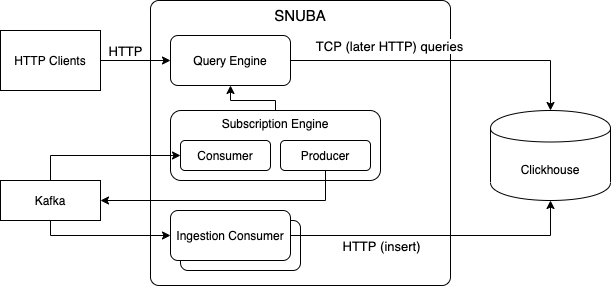 Snuba within a Sentry Deployment¶
This sections explains the role Snuba plays within a Sentry deployment showing the main data flows. If you are deploying Snuba stand alone, this won't be useful for you.
Legend: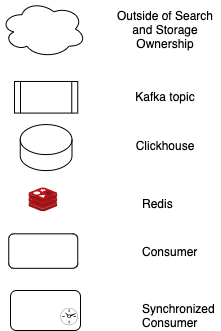 Deployments:
Errors and transaction: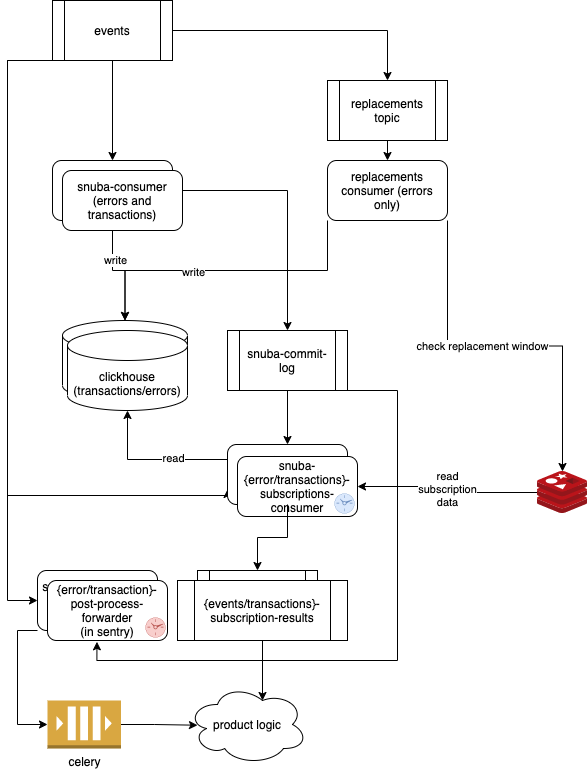 Sessions: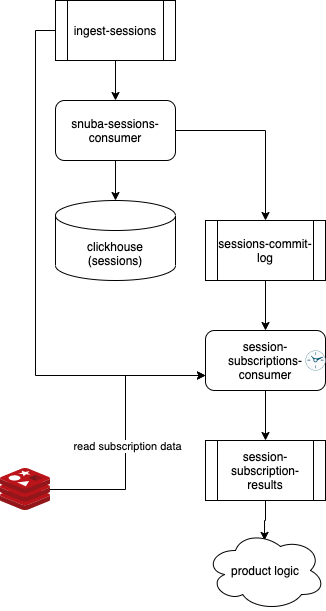 Outcomes: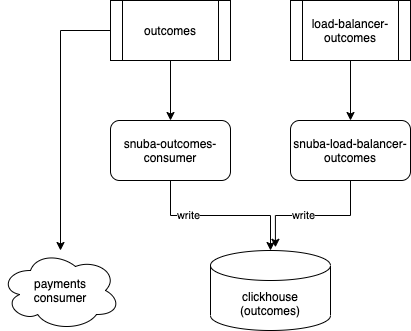 Errors and Transactions data flow¶
The main section at the top of the diagram illustrates the ingestion process for the Events and Transactions Entities. These two entities serve most issue/errors related features in Sentry and the whole Performance product.
There is only one Kafka topic (events) shared between errors and transactions that feeds this pipeline. This topic contains both error messages and transaction messages.
The Errors consumers consumes the events topic, writes messages in the Clickhouse errors table. Upon commit it also produces a record on the snuba-commit-log topic.
Alerts on Errors are generated by the Errors Subscription Consumer. This is synchronized consumer that consumes both the main events topic and the snuba-commit-log topic so it can proceed in lockstep with the main consumer.
The synchronized consumer then produces alerts by querying Clickhouse and produces the result on the result topic.
An identical but independent pipeline exists for transactions.
The Errors pipeline has an additional step: writing to the replacements topic. Errors mutations (merge/unmerge/reprocessing/etc.) are produced by Sentry on the events topic. They are then forwarded to the replacements topic by the Errors Consumer and executed by the Replacement Consumer.
The events topic must be partitioned semantically by Sentry project id to allow in order processing of the events within a project. This, as of today, is a requirement for alerts and replacements.
Sessions and Outcomes¶
Sessions and Outcomes work in very similar and simpler way. Specifically Sessions power Release Health features, while Outcomes mainly provide data to the Sentry stats page.
Both pipelines have their own Kafka topic, Kafka consumer and they write on their own table in Clickhouse.
Change Data Capture pipeline¶
This pipeline is still under construction. It consumes the cdc topic and fills two independent tables in Clickhouse.